My Bio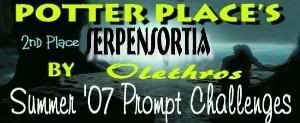 *holds up hand* I do solemnly swear that I will never leave a story unfinished.

After so many years writing, nothing drives me quite so crazy as leaving myself (not to mention my readers! ) hanging. So I will never post anything without the guaranteed promise to finish it.

I'm a globe-trotting recent grad who currently makes her home in San Francisco, where you have to wear a coat all summer long. I've been writing for over eight years, including fanfic, original fic, poetry, and research dissertations. I've just recently finished my first multichapter Harry Potter fic (SS/HG). It's called "Memento Amori" and is perhaps the favorite of my literary offspring.

I am also the proud sire of two one-shots, "More Than a Dream" and "Serpensortia" - which took runner-up in the Potter Place Summer '07 Prompt Challenge.