My Bio

I enjoy writing, and I am currently taking creative writing classes. I am learning quite a bit in my class, and my eyes have been opened to new things. I am branching out into areas that I previously would never have dared to. I have more confidence in myself as a writer, and as a person. I was a finalist in the 2009 Skyway Writers Festival.

Edit: 6/1/07
OK, I am officially in shock now. My story is currently featured on the Home Page of this Site. Thank you to everyone who has read it and thank you to those that got it featured. I am eternally grateful!





Stories by Satai Delenn
---
(1)
Hermione Goes Shopping [MA (NC-17)] by Satai Delenn

[Reviews - 18] Favorite - 18
Category: HARRY POTTER FANFICTION > Potions Under Duress
Characters: Hermione Granger, Severus Snape
Genres: Alternate, Universe, Erotica, Humor, Smut Warnings: Explicit Sexual Content
Summary: Hermione is feeling bored and neglected by her husband. What will happen when she decides to take matters into her own hands?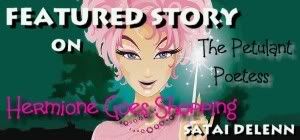 This story was written in response to the DBCA Smut!Fest Challenge and part of the challenge was that 1 line each from six random sources around you had to be used...

Disclaimer: This is just the usual... I do not own the characters of Harry Potter. They belong to JK Rowling. I am only borrowing them for fun. The story however is most defintely mine; for better or for worse. ;)
Chapters: 1 Completed: Yes Published: 2007/05/24 Updated: 2007/05/29 Word Count: 5613
The Darkness Within [M (R)] by Satai Delenn
[Reviews - 0]
Category: ORIGINAL FICTION > ORIGINAL POETRY > Poetry: Other
Characters:
Genres: Poetry/Prose Warnings: Suicide/Suicide Attempt
Summary: This poem was just something I jotted down for some personal therapy (to get my negative emotions out). Please know that I only chose the Suicide/Suicide Attempt warning because this poem could be interpreted that way. This is NOT a suicide note.
Chapters: 1 Completed: Yes Published: 2007/09/01 Updated: 2007/09/01 Word Count: 126
(1)